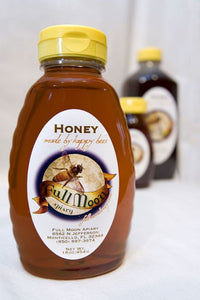 Honey made by Happy Bees!  
Our bees work the hills, flatwoods, and coast of the Florida Big Bend and Aucilla river system.
Wildflower honey is exactly what it sounds like. Derived from a variety of wildflowers and plants which are blooming during the summer months. Wildflower honey can range anywhere from a very dark honey to a light honey. Every year it changes with what blooms are produced by what plants.
***All items are shipped via priority mail during regular business hours, any orders placed after business hours will be shipped on the next business day. We are not responsible for any delays that might occur after the items have shipped***